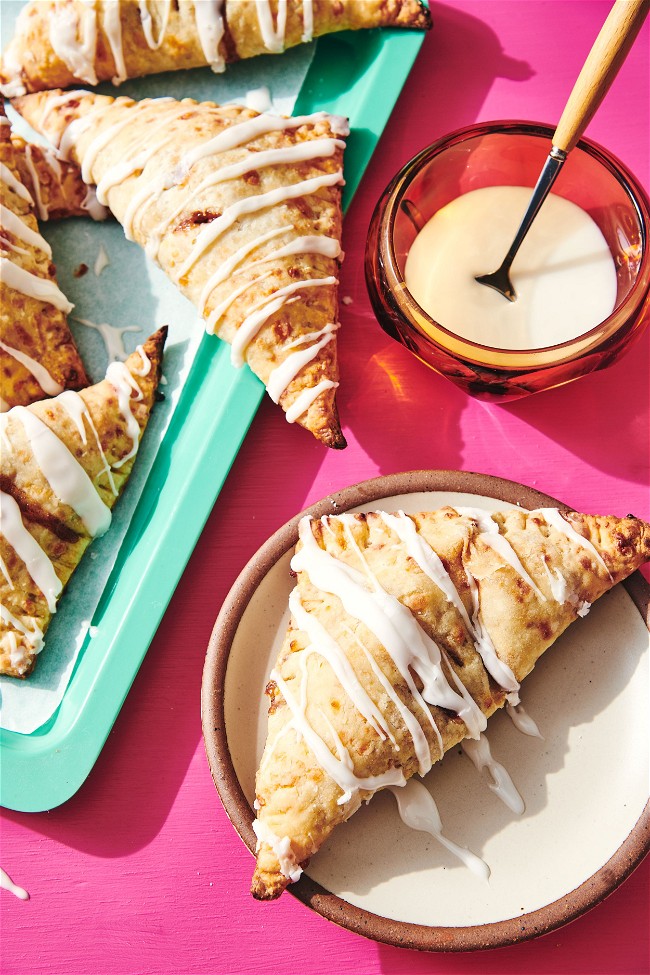 Ingredients
For the Crust

2¼ cups all-purpose flour, plus more for dusting

1 teaspoon granulated sugar

¼ teaspoon kosher salt

¾ cup (1½ sticks) Cabot Unsalted Butter, cold, cubed

1 cup Cabot Vermont Sharp Shredded Cheddar cheese

4 tablespoons ice water

For the Filling

2 tablespoons Cabot Unsalted Butter

5 Granny Smith apples, peeled, cored and diced

½ cup chopped dried apples
1 cup light brown sugar
1 teaspoon ground cinnamon
Pinch of salt
1 tablespoon cornstarch
1 tablespoon water

For the Glaze

½ cup powdered sugar

2 tablespoon milk or heavy cream
¼ teaspoon pure vanilla extract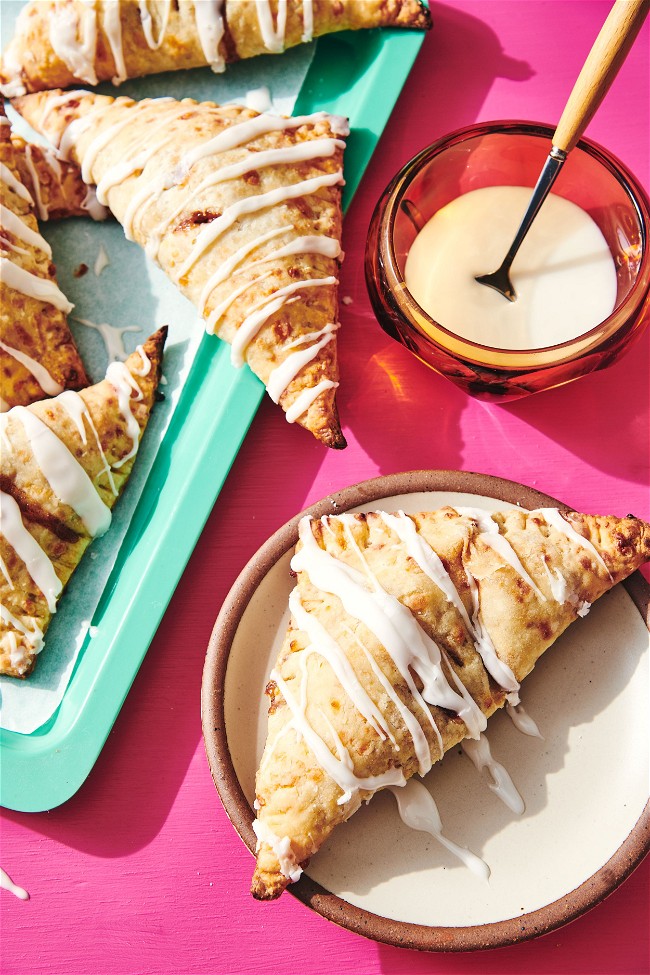 Directions
To Prepare the Crust
PULSE flour, granulated sugar, and ¼ teaspoon kosher salt in a food processor. Add butter and pulse until the butter pieces are very small, about the size of pea. Add cheese and pulse until the cheese pieces are very small as well. Add ice water and pulse until the dough begins to clump together. Transfer the dough to a clean surface and form into two 4-inch disks. Wrap each disk in plastic wrap and refrigerate for at least 30 minutes and up to 1 day.
To Prepare the Filling
HEAT butter in a large saucepan over medium heat. Add Granny Smith apples and cook, stirring occasionally, until softened and starting to brown, about 3 minutes. Add dried apples, brown sugar, cinnamon, and a pinch of salt. Cook, stirring occasionally, until the apples are very soft, about 5 minutes.

STIR together cornstarch and 1 tablespoon water in a small bowl. Add the cornstarch mixture to the apples and cook, stirring occasionally, until the sauce thickens, about 1 minute. Transfer the filling to a plate or sheet pan and spread into an even layer. Let cool, stirring occasionally, for 5 minutes.
To Make the Turnovers
PREHEAT oven to 400°F. Line two rimmed baking sheet with parchment.

ROLL dough into a 14-inch square. Trim the edges with a sharp knife to make it a perfect square. Cut the dough into 4 equal pieces.

SPOON about ¼ cup apples onto one half of each square. Fold the dough over the apples from corner to corner into a triangle shape. Pressing the edges together to seal and lightly crimp with a fork, if desired. Repeat with the remaining dough and apples.

BAKE the turnovers until lightly browned and slightly crisp on the bottom, about 25 minutes. Transfer to a wire rack to cool slightly, about 10 minutes.

PREPARE glaze by mixing powdered sugar, milk (or cream), and vanilla together in a small bowl. Adjust the thickness by adding more sugar or milk, if necessary. Drizzle the turnovers with the glaze.
Nutrition
Nutrition
Serving Size

1/8 of recipe (1 turnover)
Amount/Serving
% Daily Value
Fat

24 grams
37%

Saturated Fat

15 grams
75%

Cholesterol

70 milligrams
23%

Sodium

200 milligrams
8%

Carbs

88 grams
29%

Fiber

3 grams
12%

Sugar

54 grams

Protein

8 grams

Calcium

143 milligrams
15%