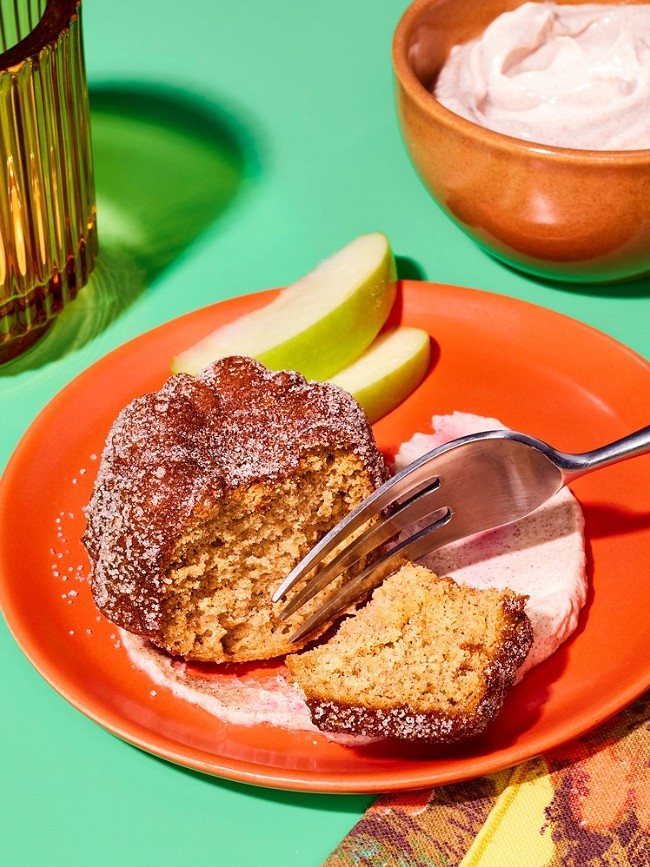 Apple Cider Doughnut Pound Cake with Sweet Cinnamon Greek Yogurt
Category
Breakfast and Brunch
Bright and sour Apple Cider Doughnut Pound Cake is a true anytime treat—perfect for breakfast, snack time and dessert. Served with a Sweet Cinnamon Greek Yogurt made with Cabot Greek Yogurt, it's a fall-inspired eat that transcends seasons.
Ingredients
For the pound cake

2½ cups apple cider

2 cups all-purpose flour

1 teaspoon baking soda

¾ teaspoon baking powder

1 tablespoon ground cinnamon

¼ teaspoon salt

8 tablespoons Cabot Unsalted Butter, melted, divided

1 large egg

½ cup brown sugar

1½ cups granulated sugar, divided

½ cup Cabot Plain Greek Yogurt

1 teaspoon vanilla extract

1 teaspoon ground cinnamon

Sweet Cinnamon Greek Yogurt (see below), for garnish

For Sweet Cinnamon Greek Yogurt (makes about 1½ cups)

1½ cups Cabot Plain Greek Yogurt

3 tablespoons granulated sugar

1 tablespoon ground cinnamon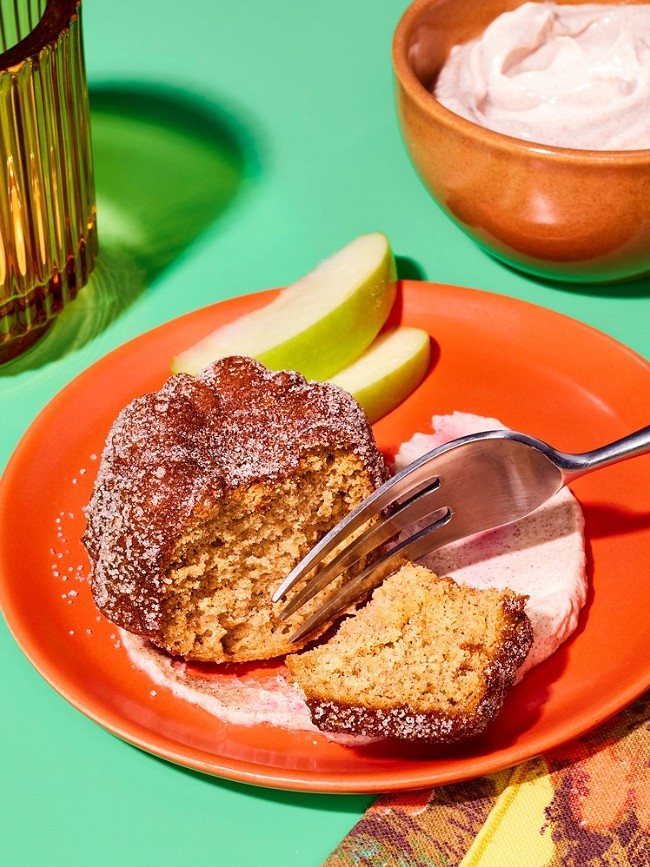 Directions
To make the pound cake
REDUCE the apple cider to ½ cup and set aside to cool in the refrigerator.

WHISK the flour, baking soda, baking powder, cinnamon and salt together. Set aside.

WHISK 2 tablespoons melted butter, egg, ½ cup of each sugar, yogurt and vanilla extract together. Combine this mixture with the dry ingredients, add the reduced apple cider, and whisk everything together until smooth.

POUR batter into a greased mini bundt pan tray and bake in a 350°F oven for approximately 25 minutes or until the edges and top are golden brown, and the centers are fully baked.

COMBINE the remaining 1 cup granulated sugar and cinnamon in a small bowl while the cake is baking and set aside.

REMOVE cakes from the bundt pan tray immediately after baking. Brush to evenly and fully coat with the remaining melted butter, then immediately coat in the cinnamon sugar.

SERVE with the Sweet Cinnamon Greek Yogurt (see below) for garnish.
To make the Sweet Cinnamon Greek Yogurt
MIX all ingredients together until smooth.
Nutrition
Nutrition
Serving Size

1 cake (1/12 recipe)
Amount/Serving
% Daily Value
Fat

8 grams
12%

Saturated Fat

5 grams
25%

Cholesterol

35 milligrams
12%

Sodium

170 milligrams
7%

Carbs

57 grams
19%

Fiber

1 grams
4%

Sugar

39 grams

Protein

4 grams

Calcium

60 milligrams
5%