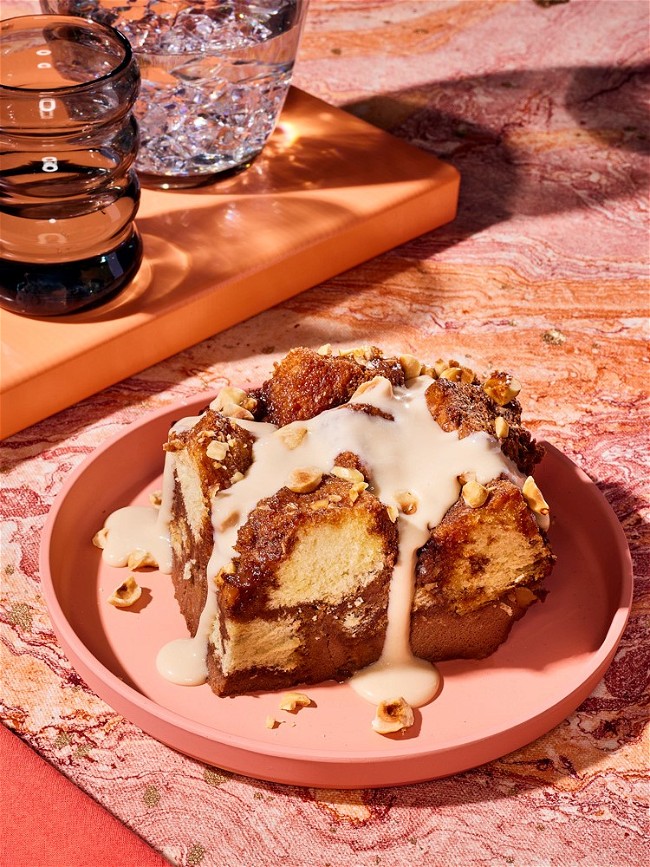 Chocolate Hazelnut Sour Cream Pudding with Brown Sugar Creme Sauce
Made with Cabot Sour Cream, this sweet and tangy brioche-based bread pudding balances sweet and savory flavors with the iconic combination of chocolate and hazelnuts. Topped with a Brown Sugar Creme Sauce and chopped hazelnuts, it's perfect for breakfast, brunch and dessert menus. Pre-slice and individually package for a great on-the-go snack option.
Ingredients
For the bread pudding

2 loaves brioche, cut into 1-inch cubes

1 cup Cabot Unsalted Butter, melted

1½ cups honey

2 cups whole milk

8 ounces semi-sweet chocolate, coarsely chopped

2 cups Cabot Sour Cream

8 large eggs

8 egg yolks

½ cup granulated sugar

1 tablespoon vanilla extract

1 teaspoon salt

½ cup hazelnuts, chopped, plus additional sliced for garnish

3½ cups Brown Sugar Creme Sauce (see below)

For the Brown Sugar Creme Sauce

¼ cup Cabot Unsalted Butter

1 cup brown sugar

2 cups Cabot Sour Cream

2 tablespoons vanilla extract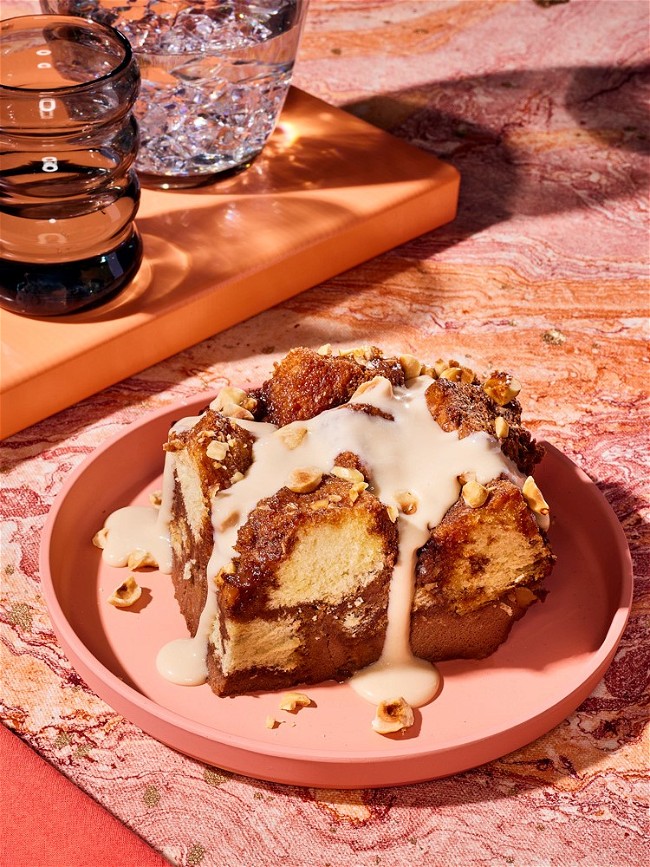 Directions
To make the bread pudding
LAY out the bread cubes in a single layer on a sheet pan and bake in a preheated 350°F oven for a few minutes until lightly toasted.

MIX the honey and butter and pour over the toasted bread. Toss to coat. Place the pan back in the oven and toast for a few more minutes until slightly crispy. Set aside to cool.

OVER medium heat, cook milk in a medium saucepan until simmering. Pour milk over chocolate in a large bowl and stir until completely combined and chocolate has melted. Whisk in the sour cream until the mixture is smooth.

WHISK the eggs, egg yolks, sugar, vanilla extract and salt together in a large bowl. Temper the egg mixture with the chocolate mixture and whisk until smooth.
GREASE a hotel pan and spread the bread and chopped nuts in an even layer. Pour the chocolate custard over the top and press the bread into the liquid, tossing until evenly distributed. Drizzle a little extra milk around the edges of the pan to prevent burning. Cover tightly with aluminum foil.

BAKE the bread pudding at 320°F for 45-50 minutes or until the edges are set and the pudding is still moist.

SERVE with Brown Sugar Creme Sauce. Top with sliced hazelnuts.
To make the Brown Sugar Creme Sauce
WHISK ingredients in a saucepan over low heat until sugar is melted and sauce is smooth.

SERVE warm or cold, poured over the bread pudding.
Nutrition
Nutrition
Serving Size

1/27 of recipe
Amount/Serving
% Daily Value
Fat

17 grams
26%

Saturated Fat

9 grams
45%

Cholesterol

105 milligrams
35%

Sodium

95 milligrams
4%

Carbs

28 grams
9%

Fiber

1 grams
0%

Sugar

25 grams

Protein

4 grams

Calcium

60 milligrams
5%