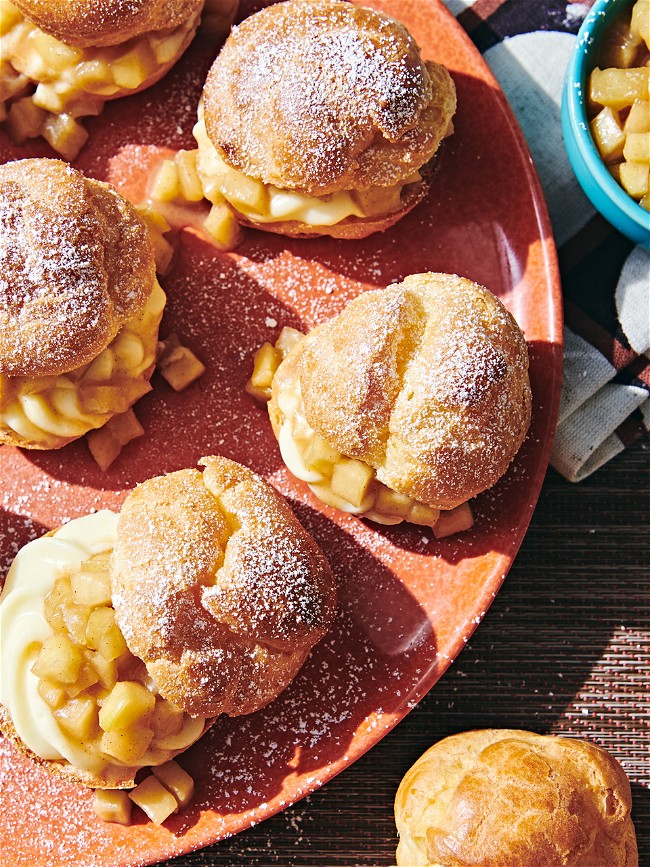 Cream Puffs with a Sweet Apple-Cheddar Pastry Cream
Cream puffs may look fancy but they're actually very easy to make. This combination of apples and Cabot Cheddar is classic in Vermont and while it may seem crazy to add cheese to your dessert, these are so good that you may never go back to plain cream puffs.
Ingredients
For the Pastry Dough

1 cup water or milk 

½ cup (1 stick) Cabot Unsalted Butter, cubed

2 teaspoons granulated sugar
¼ teaspoon salt

1¼ cups (156g) all-purpose flour

4 large eggs

For the Filling

3 cups whole milk, divided
½ cup granulated sugar
¼ teaspoon salt
4 large egg yolks
¼ cup cornstarch
1 tablespoon all-purpose flour

¾ cup shredded Cabot Mild Cheddar Cheese

4 tablespoons Cabot Unsalted Butter

For the Apples

4 tablespoons Cabot Unsalted Butter

6 Granny Smith apples, peeled, cored, and diced into ¼-inch pieces
⅓ cup light brown sugar
2 teaspoons lemon juice
2 teaspoons pure vanilla extract
1/4 teaspoon ground cinnamon
¼ teaspoon salt

Powdered sugar, for serving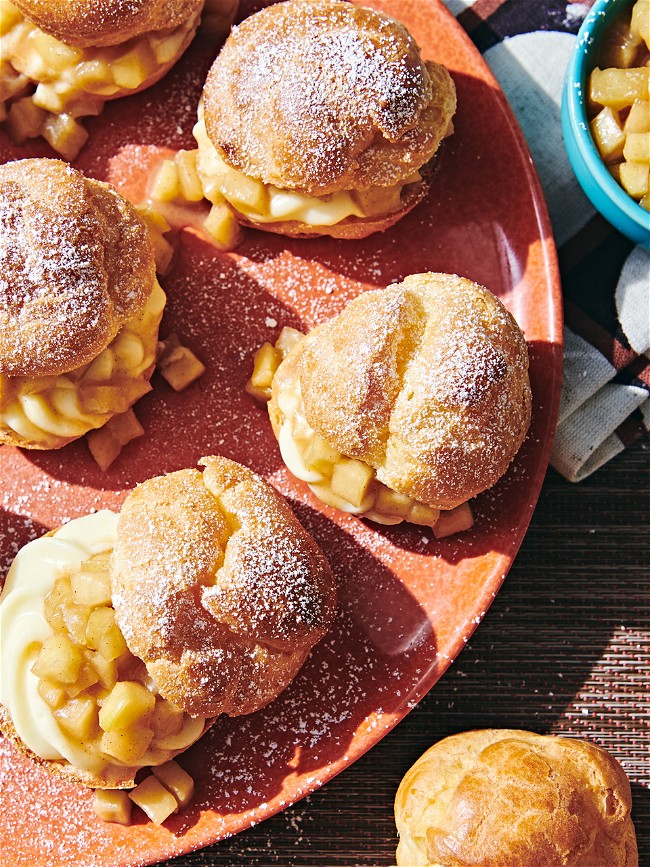 Directions
PREHEAT oven to 400°F. Line two baking sheets with parchment paper.

PREPARE pastry dough: Combine water (or milk), butter, sugar, and salt in a medium saucepan over medium-high heat. Cook, stirring, until the butter is melted and the mixture just comes to a rolling simmer. Reduce the heat to low and add flour all at once. Using a wooden spoon, stir until the flour is completely incorporated, making sure to break up any lumps. Continue stirring and mashing the dough against the sides of the pan until a thick dough clumps into a ball. Cook the dough, continuing to mash it against the bottom and sides of the pan until the dough registers 175°F on an instant-read thermometer, about 1 minute.

TRANSFER the dough to the bowl of a stand mixer fitted with a paddle attachment. Beat on low speed until the dough registers 145°F on an instant-read thermometer, about 1 minute. With the mixer running on low speed, add eggs one at a time, allowing each egg to be incorporated before adding another egg, about 30 seconds for each egg. Be sure to scrape down the sides of the bowl as needed.

TRANSFER the dough to a piping bag or plastic ziptop bag fitted with your desired tip. Lightly brush the parchment paper with water. (This helps the pastry shells to puff up without drying out.) Pipe 1-inch circular mounds about 2 inches apart on the parchment. Using a wet finger, smooth down the peaks and lightly brush each with egg wash.

BAKE the dough for 20 minutes. Reduce the oven to 350°F and continue baking until the puffs are golden brown, about 10 minutes more. Do not open the oven as the pastries bake. Transfer the puffs to a cooling rack and allow to cool completely before filling, about 10 minutes.

PREPARE the filling: Whisk 2½ cups milk, sugar, vanilla, and salt in a medium saucepan. Bring to a simmer over medium heat, whisking occasionally. Whisk egg yolks, cornstarch, flour, and the remaining ½ cup milk in a medium bowl. Whisk ¼ cup hot milk into the egg yolk mixture. Pour the egg mixture back into the hot milk in the saucepan. Bring the mixture to a boil, whisking occasionally and scraping the bottom edges of the pan to make sure nothing is sticking. Cook until the mixture thickens, about 2 minutes.

SET a fine-mesh strainer over a large bowl. Strain the custard into the large bowl. Stir in shredded cheese and butter immediately. Place a piece of plastic wrap directly on top of the pastry cream and refrigerate until cool, about 1 hour.

PREPARE apples: Heat butter in a large skillet over medium heat. Add apples, sugar, lemon juice, vanilla, cinnamon, and salt. Cook, stirring occasionally, until the apples are soft, about 6 minutes. Transfer the apples to a small bowl and let cool, about 10 minutes.

ASSEMBLE cream puffs: Transfer pastry cream to a piping bag fitted with a 1-inch tip, or a large ziptop bag with the corner cut. Split cream puffs in half and pipe pastry cream on the bottom half. Top pastry cream with a few apples and place cream puff top half on the apples. Serve dusted with powdered sugar, if desired.
Recipe Note
Make Ahead: Refrigerate dough and apples for up to 3 days, and pastry cream for up to 5 days.
Nutrition
Nutrition
Serving Size

1/16 of recipe
Amount/Serving
% Daily Value
Fat

17 grams
26%

Saturated Fat

10 grams
50%

Cholesterol

135 milligrams
45%

Sodium

180 milligrams
8%

Carbs

34 grams
11%

Fiber

1 grams
4%

Sugar

22 grams

Protein

6 grams

Calcium

112 milligrams
10%