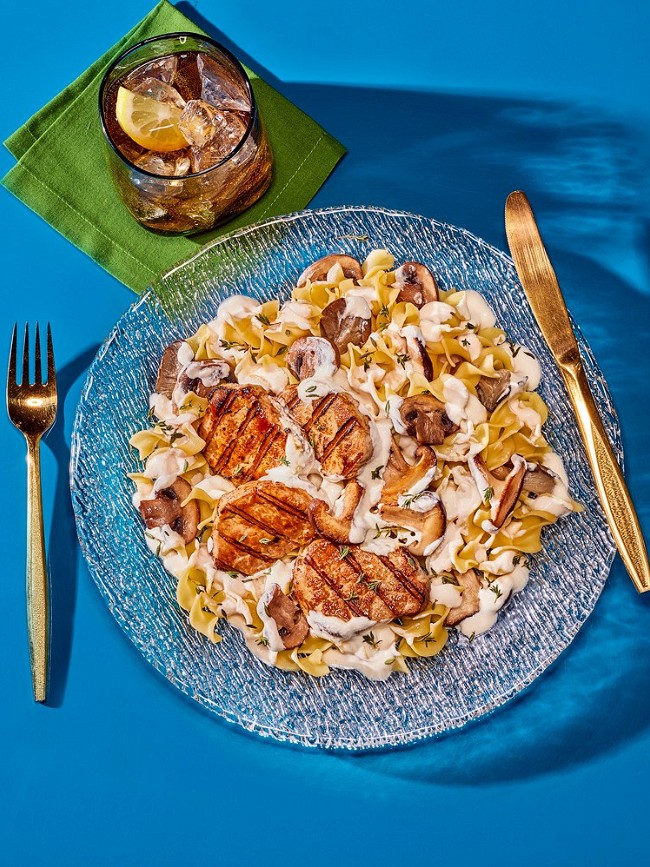 Creamy Mushroom Grilled Pork Loin with Egg Noodles
Perfectly grilled pork loin is the star of this new take on a nostalgic favorite. Wild mushrooms—including cremini, oyster and shiitake— tender slices of pork loin and a bed of soft egg noodles are brought together with a rich and creamy sauce made with Cabot Sour Cream, Dijon mustard and white wine.
Ingredients
½ pound pork loin, 1-inch medallions

1½ teaspoons olive oil

1½ teaspoons salt

1½ teaspoons black pepper, fresh cracked

1½ tablespoons Cabot Unsalted Butter

2 cups wild mushroom blend (cremini, oyster, shitake), sliced

1 tablespoon fresh garlic, minced

¼ cup dry white wine

¼ teaspoon Dijon mustard

1½ teaspoon fresh thyme, picked

2 tablespoons chicken stock

½ cup Cabot Sour Cream

2 cups egg noodles, cooked

1 tablespoon Italian parsley, chopped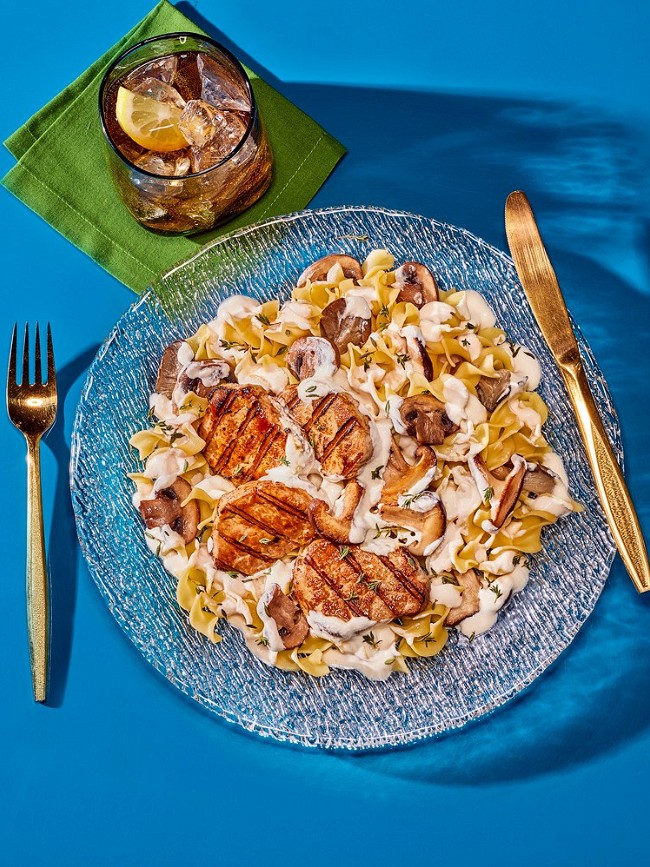 Directions
CUT the pork loin into 1-inch medallions and toss lightly with olive oil and season with salt and pepper. Grill each medallion on high heat until they have grill marks and are golden brown. No need to fully cook yet.

ADD the oil and butter to a skillet over medium-high heat. Add mushrooms and cook until they are browned on both sides. Add garlic and cook for a few more minutes. Deglaze the pan with wine and reduce until almost dry.

STIR in Dijon mustard, fresh thyme, salt, chicken stock, and sour cream. Mix until smooth.

ADD the pork into the pan and let it simmer for another few minutes or until the pork has cooked through and the sauce has reduced.

PLACE 2 cps of cooked egg noodles on a large plate and top with mushroom sauce and sliced pork. Garnish with chopped parsley.
Nutrition
Nutrition
Serving Size

¼ of recipe
Amount/Serving
% Daily Value
Fat

36 grams
46%

Saturated Fat

16 grams
80%

Cholesterol

165 milligrams
55%

Sodium

950 milligrams
41%

Carbs

30 grams
11%

Fiber

6 grams
21%

Sugar

8 grams

Protein

41 grams

Calcium

120 milligrams
9%