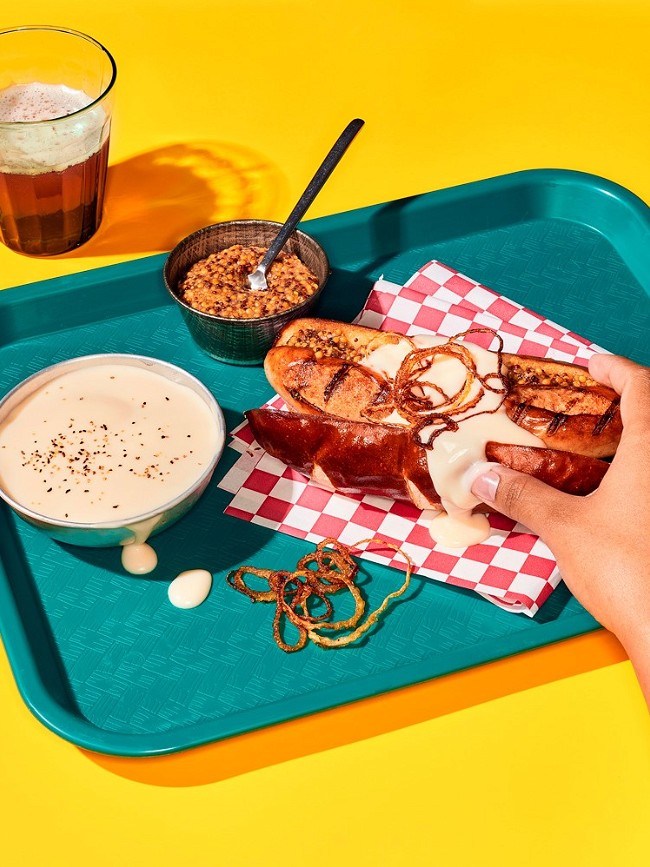 Grilled Cheddar Bratwurst with Beer Mustard and Fried Onions
Every bite of this grilled bratwurst will blow customers away. A creamy sauce made from Cabot White Cheddar, whole-grain beer mustard and a sprinkle of crispy fried onions on a pretzel roll, make this hand-held meal a must for sports bars, pubs and really any operation serving elevated casual cuisine.
Ingredients
For the bratwurst sandwich

1 bratwurst, grilled

1 pretzel bun, split

2 tablespoons White Cheddar Sauce (see below)

1 tablespoon whole grain beer mustard (see below)

1 tablespoon onion, thinly sliced, fried

For the White Cheddar Sauce (makes about 1 cup)

1 cup milk

3 tablespoons Cabot Unsalted Butter

3 tablespoons all-purpose flour

½ teaspoon Dijon mustard

1 cup Cabot Vermont Sharp or Extra Sharp Cheddar Shreds

For the Whole Grain Beer Mustard (makes about 1 cup)

⅓ cup yellow mustard seed

¼ cup brown mustard seed

½ cup IPA beer

2 tablespoons light brown sugar

½ cup apple cider vinegar

1 teaspoon salt

⅛ teaspoon allspice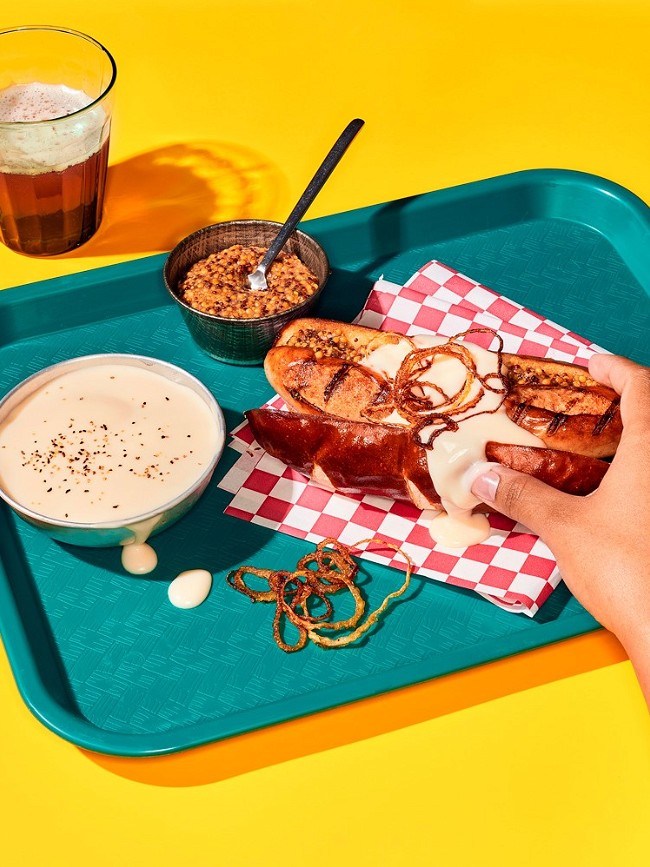 Directions
To make the bratwurst sandwich
GRILL bratwurst on hot grill until cooked through and toast pretzel bun.

ADD bratwurst to pretzel bun then smother in the cheese sauce and top with the whole grain beer mustard. Finish with fried onions.
To make the White Cheddar Sauce
BRING milk to a simmer in a saucepan.

ADD butter to a separate saucepan and melt over medium-high heat. Whisk in the flour slowly until a paste is formed. Slowly whisk in the milk and make sure to break up any clumps. Simmer for a few minutes until the raw flour is cooked. Make sure to keep stirring to avoid burning.

ADD the Dijon mustard and shredded cheese and then mix until melted and smooth.
To make the Whole Grain Beer Mustard
SOAK the mustard seeds in the beer. Cover and place in the refrigerator overnight or for at least 12 hours until the liquid is fully absorbed and the mustard seeds are soft to the touch. Add additional 3 tablespoons of beer and soak for another 12 hours.

MIX together the remaining brown sugar, apple cider vinegar, salt and allspice in a small saucepan. Bring to a boil over medium heat. Remove from heat and let cool slightly.

ADD the mustard seeds and the mixture from the saucepan to a blender and pulse 4 - 5 times. Make sure the mixture isn't too smooth and you can see some visual mustard seeds.
Nutrition
Amount/Serving
% Daily Value
Fat

23 grams
35%

Saturated Fat

10 grams
50%

Cholesterol

65 milligrams
22%

Sodium

2060 milligrams
86%

Carbs

18 grams
6%

Fiber

1 grams
0%

Sugar

4 grams

Protein

13 grams

Calcium

170 milligrams
13%