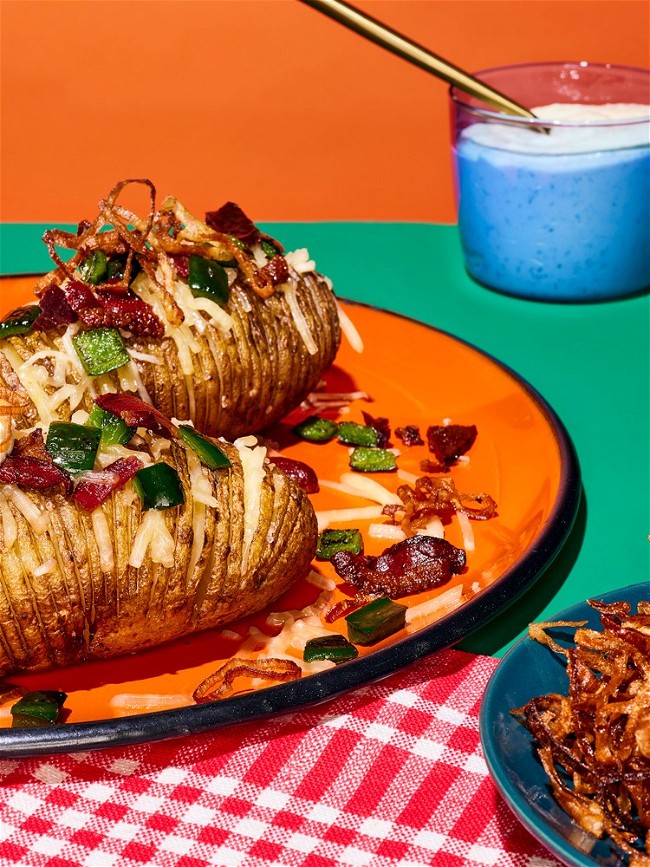 Hasselback Potatoes with Duck Bacon and Cheddar
Hasselback potatoes instantly elevate any meal and stand on their own as a shareable menu offering. Loaded with crispy duck bacon, melty Cabot Creamery Sharp White Cheddar Shreds, crunchy onions and roasted poblano peppers, they're as much a feast for the eyes as they are a treat for the taste buds. A spoonful of Roasted Garlic and Chive Sour Cream made with Cabot Creamy Sour Cream adds a cool, creamy and flavorful finish.
Ingredients
For the potato

1 russet potato

1 tablespoon Cabot Unsalted Butter, melted

¼ cup Cabot Vermont Sharp or Extra Sharp Cheddar Shreds

2 tablespoons Roasted Garlic and Chive Sour Cream (see below)

¼ cup duck bacon, cooked

1 tablespoon fire roasted poblanos, medium dice

1 tablespoon crispy shallots

For the Roasted Garlic and Chive Sour Cream (makes about 1¼ cups)

1 cup Cabot Sour Cream

3 tablespoons garlic, roasted

2 tablespoons olive oil

¼ cup chives, chopped

1 tablespoon salt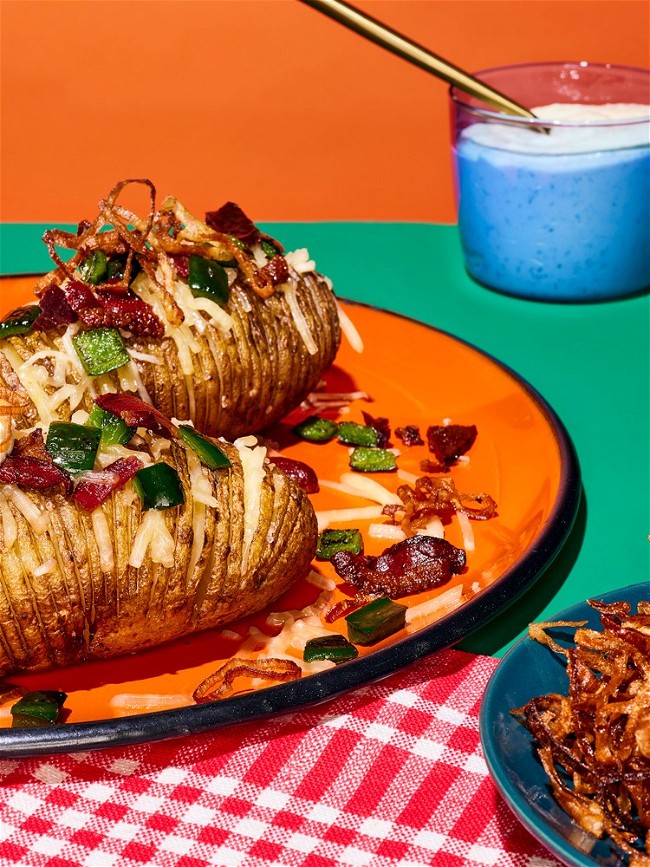 Directions
To make the potato
PREHEAT the oven to 400°F.

MAKE ¼-inch slices across the potato, making sure you do not cut through the bottom. Place potato on a baking sheet lined with parchment paper, then brush butter evenly on all sides. Bake for about 20-30 minutes until the potato is soft and fully cooked.

LOWER the oven heat to 350°F. Place shredded white cheddar cheese in between the slits in the potato, then return to the oven and bake for about 5-7 minutes, until the cheese is fully melted.

REMOVE from the oven and garnish with garlic chive sour cream, crispy duck bacon, fire-roasted poblanos and crispy shallots.
To make the Roasted Garlic and Chive Sour Cream
ADD sour cream, roasted garlic, olive oil, chopped chives and salt to a food processor and pulse until all ingredients are smooth and fully incorporated.
Nutrition
Nutrition
Serving Size

1 potato (with toppings)
Amount/Serving
% Daily Value
Fat

52 grams
67%

Saturated Fat

28 grams
140%

Cholesterol

140 milligrams
47%

Sodium

1200 milligrams
52%

Carbs

40 grams
15%

Fiber

4 grams
14%

Sugar

3 grams

Protein

24 grams

Calcium

460 milligrams
35%