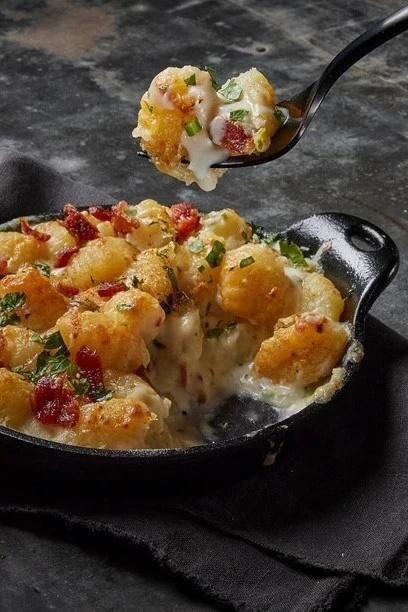 Loaded Gnocchi with Cheddar Sauce
Category
Meals and Entrees
Ingredients
8 cups potato gnocchi, frozen or shelf-stable

For the Cheese Sauce

½ cup Cabot Unsalted Butter

⅔ cup all-purpose flour
6 cups whole milk

4 cups Cabot Vermont Sharp or New York Extra Sharp Shredded Cheddar, (about 4 cups), plus more for topping

1 teaspoon kosher salt, less if using fine table salt
Freshly ground pepper
¼ cup green onion, finely chopped
¼ teaspoon garlic powder

⅔ cup Cabot Sour Cream, *see directions

½ teaspoon paprika

For the Garnish

Chopped fresh chives

Chopped fresh parsley

Cooked bacon crumbles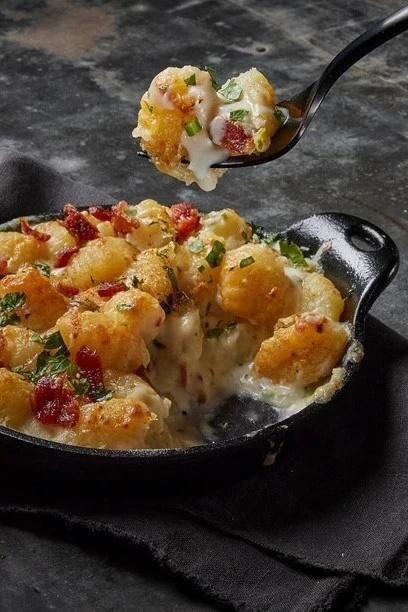 Directions
PREHEAT oven to 350°F (175°C) with rack in the center of the oven. Oil or butter 8 individual baking dishes.

ADD water and a bit of salt to a large pot and place over high heat for cooking the gnocchi. While water is heating, prepare the cheese sauce.
For the Cheese Sauce
MELT the butter in a large saucepan over medium heat. Whisk in the flour and continue to whisk and cook for about 2 minutes. Very slowly add the milk, a little at a time, whisking constantly. Once all the milk has been added, cook, stirring frequently until the sauce thickens, about 8-10 minutes. (Don't rush this step. The mixture will not be thick, but will noticeably thicken after 8-10 minutes of cooking).

REMOVE the saucepan from the heat. Add the grated cheese, salt, pepper, green onion and garlic powder. Stir until the cheese is melted and all the ingredients are incorporated, about 3 minutes. (If the cheese isn't melted completely after about 3 minutes, you can put the pan back on low heat and stir until it is melted). *Stir in sour cream or alternatively, leave out of the sauce and serve on top with the garnishes.

ADD gnocchi to boiling, salted water and cook according to the package instructions. Do not over-cook. Drain gnocchi well and stir into cheese sauce until well coated. Transfer to individual baking dishes and sprinkle with paprika. (Can be prepared up to this point, covered and refrigerated until ready to bake. If baking cold from the refrigerator, allow a few extra minutes in the oven to warm through.)

BAKE in preheated oven for 30 minutes. After 30 minutes cover top with a thin layer of shredded cheese. Cook under the broiler for 5 minutes or until golden brown and bubbly. Serve warm garnished with diced green onion, cooked bacon crumbles and chopped chives and parsley if using.
Nutrition
Nutrition
Serving Size

1/8 recipe
Amount/Serving
% Daily Value
Fat

28 grams
43%

Saturated Fat

16 grams
80%

Sodium

1000 milligrams
42%

Cholesterol

90 milligrams
30%

Carbs

63 grams
21%

Fiber

3 grams
12%

Sugar

13 grams

Protein

23 grams

Calcium

437 milligrams
45%