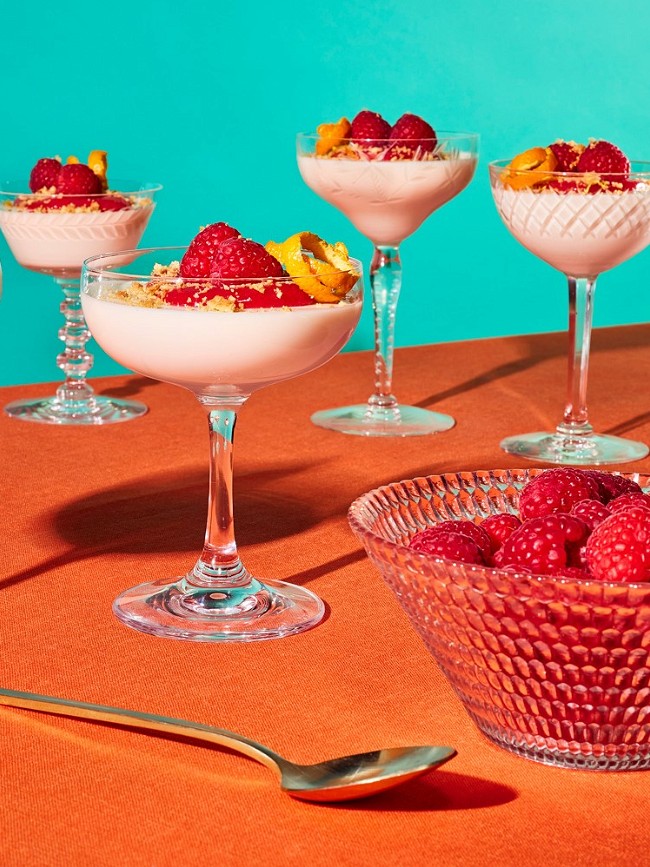 Panna Cotta with Raspberry Coulis and Citrus Graham Crumble
The sweet, tart flavor of raspberries pops against the creamy, soft taste and texture of this panna cotta. Cabot Greek Yogurt is whisked with honey and vanilla into a light-as-air cream to create an indulgent base. A sprinkle of Citrus Graham Crumble and a drizzle of Raspberry Coulis complete this sophisticated sweet that piles on the better-for-you menu appeal.
Ingredients
For the Panna Cotta

3 packets gelatin powder

¾ cup cold water

6 cups Cabot Plain Greek Yogurt

1½ cups honey

1 teaspoon vanilla extract

2½ cups Raspberry Coulis (see below)

Fresh raspberries, for garnish

For the Raspberry Coulis

36 ounces fresh raspberries

1½ cups granulated sugar

⅓ cup lemon juice

For the Citrus Graham Crumble

1 cup graham cracker crumbs

1 teaspoon lemon zest

1 teaspoon orange zest

1 tablespoon Cabot Unsalted Butter, melted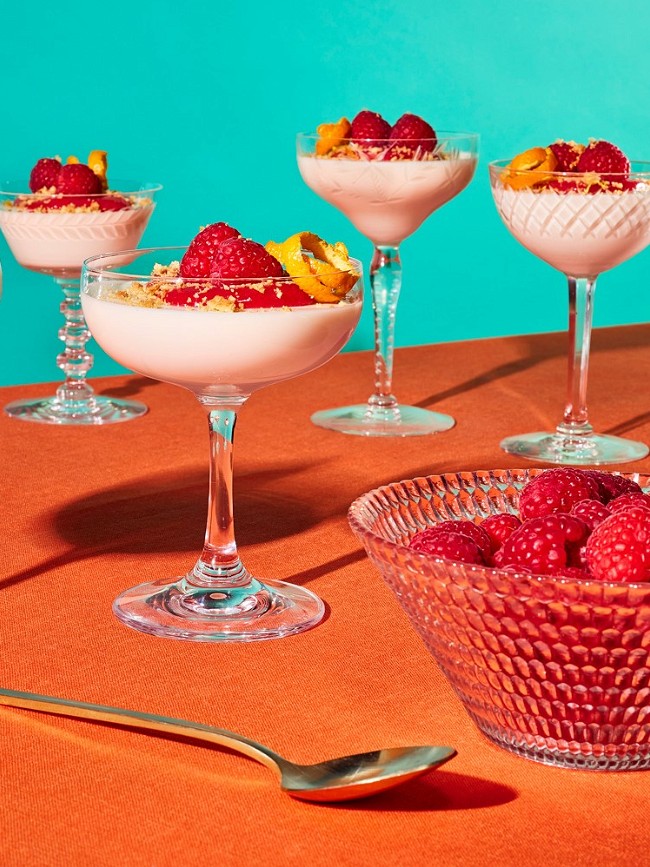 Directions
To make the Panna Cotta
PLACE the gelatin in the water and set aside to hydrate.

WHISK together the yogurt, honey and vanilla in a saucepan over low heat until smooth.

IMMEDIATELY REMOVE mixture from heat when it starts to bubble and set aside.

SET the gelatin bowl in a larger bowl of shallow boiling water to melt the gelatin, stirring until liquefied.

ADD a few tablespoons of the yogurt mixture to the gelatin bowl and whisk until incorporated. Then add the gelatin mixture back to the hot pot and whisk well to incorporate.

COAT twenty ½-cup vessels with nonstick spray, if intending to serve the panna cotta unmolded. Otherwise, skip this step.

POUR mixture evenly amongst the vessels.

WRAP each tightly and refrigerate a couple hours or overnight, until set.

UNMOLD the vessels by dipping each of them in hot water for a few seconds, inverting the vessel on a plate and carefully tapping.  Otherwise, serve the panna cotta in the vessel as-is without unmolding.

SERVE each portion with 2 tablespoons of Raspberry Coulis and 1 tablespoon of Citrus Graham Crumble. Garnish with fresh raspberries.
To make the Raspberry Coulis
PUREE raspberries and push through a sieve to remove seeds.

WHISK the puree with sugar and lemon.
To make the Citrus Graham Crumble
TOSS all the ingredients together evenly.
Nutrition
Nutrition
Serving Size

3/4 cup
Amount/Serving
% Daily Value
Fat

3.5 grams
5%

Saturated Fat

1.5 grams
8%

Cholesterol

5 milligrams
2%

Sodium

90 milligrams
4%

Carbs

37 grams
12%

Fiber

2 grams
8%

Sugar

27 grams

Protein

7 grams

Calcium

80 milligrams
6%