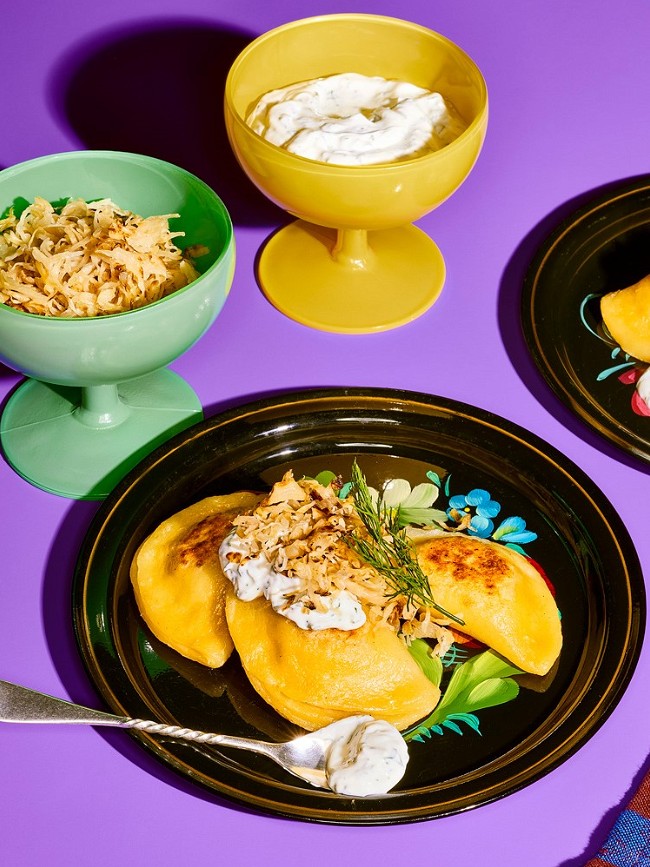 Pierogies with Caramelized Kraut and Lemon Dill Yogurt
Servings
14 (3 pieces each)
Fermented flavors are a big food trend. Our Pierogies with Caramelized Kraut and Lemon Dill Yogurt are stuffed with a potato-and-Cabot White Cheddar filling. Served with caramelized sauerkraut and a Lemon Dill Yogurt made with creamy Cabot Greek Yogurt, they're great as a meal, side or shareable appetizer.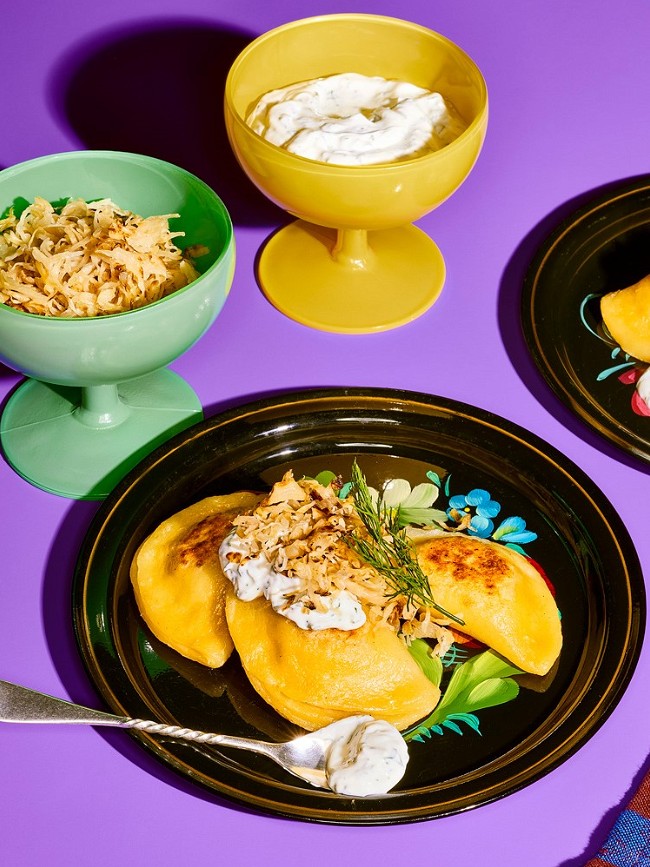 Directions
To make the Pierogies
TO MAKE the dough, mix the flour, salt, melted butter, yogurt and egg. Knead the dough until it comes together and isn't sticky. Cover and let sit for 30 minutes.

TO MAKE the filling, boil the potatoes until tender and drain. Mash with the cheddar cheese and room temperature butter. Season to taste with salt and pepper.

ROLL the dough out onto a floured surface to ⅛-inch thickness. Using a biscuit cutter, cut out 3-inch circles. Spoon 2 teaspoons of potato filling into the center of each round. Brush the edges with water and fold half of the dough over the filling to enclose it. Press down the edges to seal, pressing out all the air.

BOIL pierogies for 1-2 minutes, or until they float. Transfer to pan with butter and cook until slightly golden.

SERVE with Caramelized Sauerkraut and Lemon Dill Yogurt.
To make the Caramelized Sauerkraut
DRAIN the sauerkraut and squeeze out as much liquid as possible.

CARAMELIZE the sauerkraut in the butter in a pan over medium heat, deglazing with water as necessary, until golden brown and frizzled.
To make the Lemon Dill Yogurt
WHISK all together until smooth.
Nutrition
Nutrition
Serving Size

3 Pierogies (with toppings)
Amount/Serving
% Daily Value
Fat

10 grams
13%

Saturated Fat

6 grams
30%

Cholesterol

40 milligrams
13%

Sodium

220 milligrams
10%

Carbs

26 grams
9%

Fiber

2 grams
7%

Sugar

1 grams

Protein

10 grams

Calcium

160 milligrams
12%