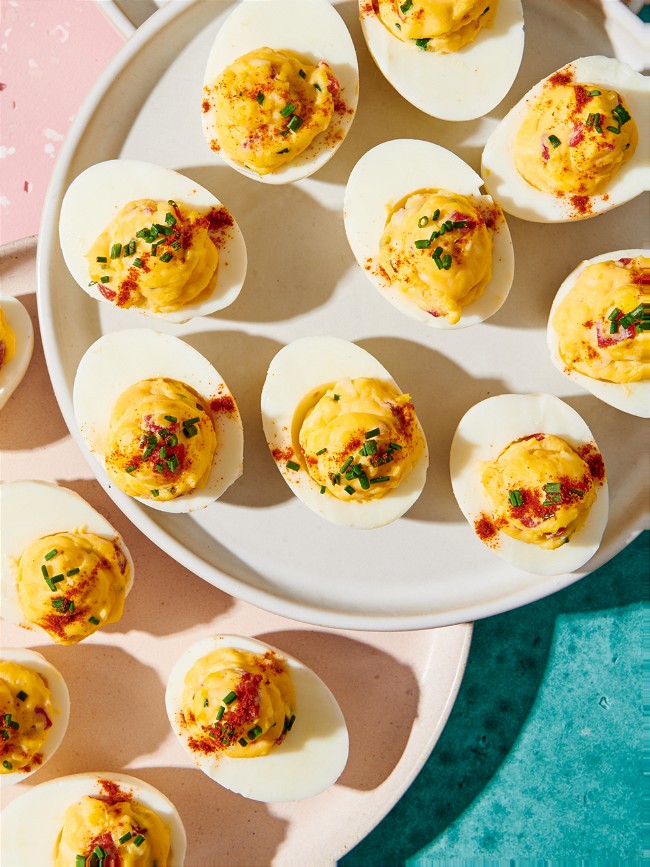 Pimento Cheese Deviled Eggs
Regular deviled eggs get a cheesy twist with the addition of cheddar and pimentos in this easy and delicious appetizer recipe. We like the rustic cut shredded cheddar from Cabot because it provides more texture and reminds us of classic pimento cheese.
Ingredients
12 large eggs

1 cup "rustic cut" shredded Cabot Cheddar cheese

6 tablespoons mayonnaise

2 teaspoons Dijon mustard

½ teaspoon kosher salt
2 tablespoons diced pimento or roasted red bell peppers
2 tablespoons minced chives, plus more for serving
Paprika or cayenne for serving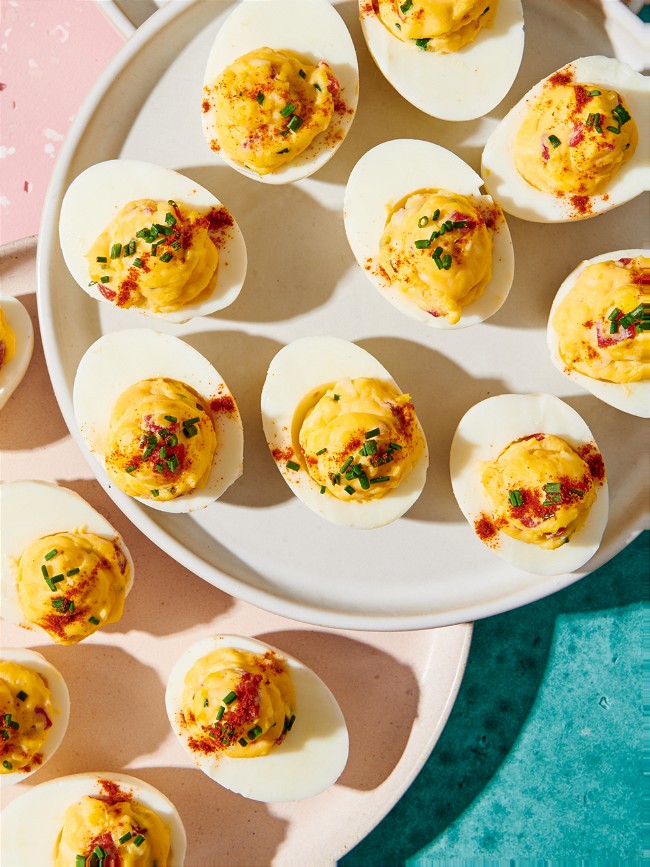 Directions
PLACE eggs in a medium saucepan and cover with cold water by 1-inch. Bring the water to a boil over medium-high heat. As soon as the water comes to a rolling boil, remove the pan from the heat and cover. Let sit for 10 minutes. Transfer the eggs to a bowl of ice water until cold, about 10 minutes. Peel the eggs.

HALVE the eggs lengthwise using a small paring knife, wiping the knife clean between each egg. Scoop the yolks from the eggs into a medium bowl. Add cheese, mayonnaise, mustard, and salt. Mix until well combined. Fold in pimentos and chives.

PLACE the egg white halves on a serving platter and fill each with about 1½ teaspoons of the egg mixture using a small spoon or piping bag fitted with a star tip. Served garnished with paprika or cayenne, and more chives, if desired.
Nutrition
Nutrition
Serving Size

1/6 of recipe (2 egg halves)
Amount/Serving
% Daily Value
Fat

26 grams
40%

Saturated Fat

8 grams
40%

Cholesterol

400 milligrams
133%

Sodium

550 milligrams
23%

Carbs

2 grams
1%

Fiber

0 grams
0%

Sugar

1 grams

Protein

17 grams

Calcium

191 milligrams
20%