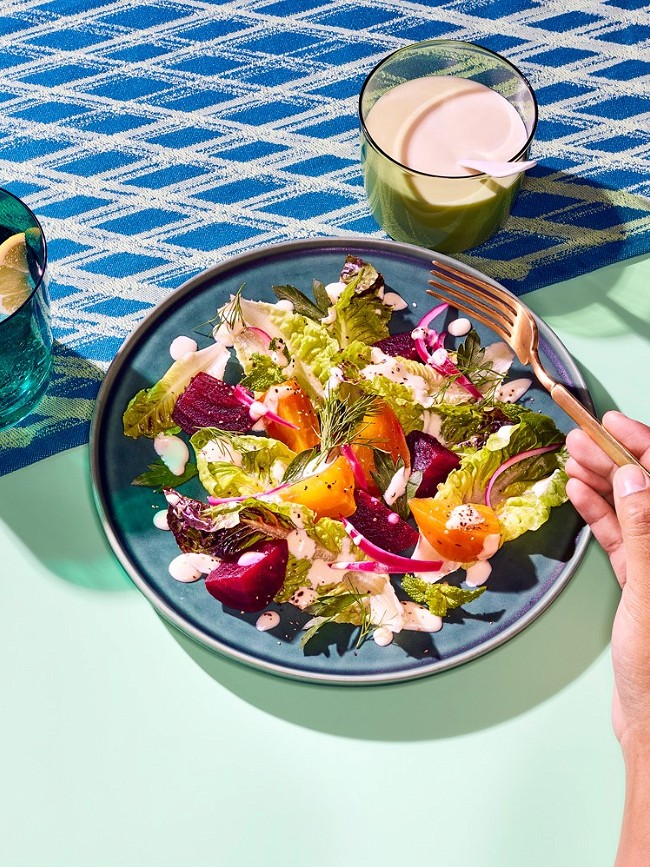 Roasted Beet Salad with Herbs, Pickled Onion and Champagne Yogurt Dressing
Roasted golden and red beets bring a healthy dose of flavor to this salad featuring baby gem lettuce, pickled red onion, fresh dill and fresh mint. But the real star of the salad is the Champagne Yogurt Dressing made with Cabot Greek Yogurt. It's a sophisticated addition to any menu that is sure to be a hit with health-conscious diners.
Ingredients
For the salad

1 cup baby gem lettuce

½ cup red beets, roasted

½ cup golden beets, roasted

2 tablespoons Champagne yogurt dressing (see below)

2 tablespoons extra virgin olive oil

1 tablespoon red onion, pickled

2 tablespoons fresh dill sprigs

2 tablespoons fresh mint, chopped

1 tablespoon fresh Italian parsley, picked

1/8 teaspoon Maldon salt

1/8 teaspoon black pepper, fresh cracked

For the Champagne Yogurt Dressing (makes about 2 cups)

1 cup Cabot Plain Greek Yogurt

½ cup Brut Champagne

2 tablespoons lemon juice

½ cup olive oil

1 tablespoon salt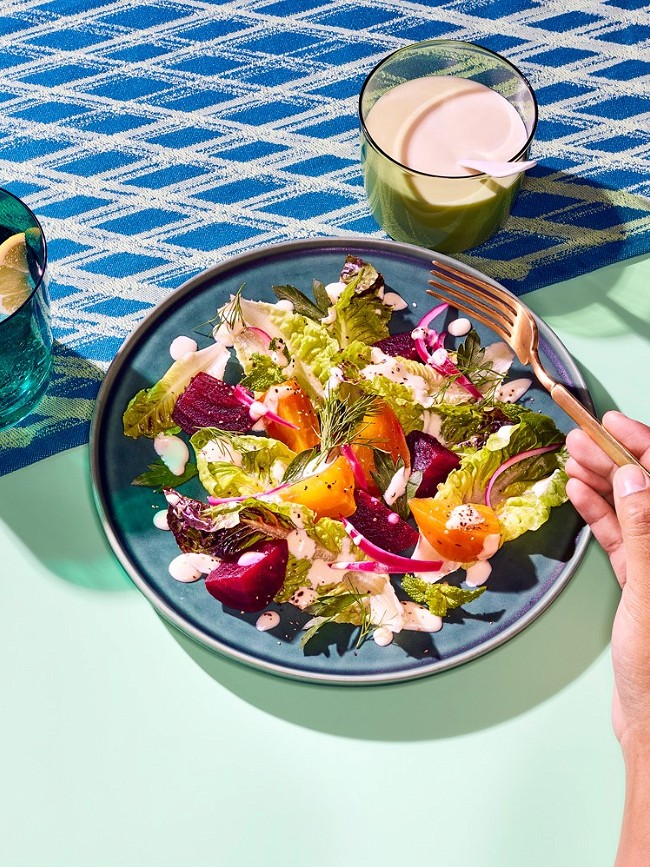 Directions
To make the salad
PLACE little gem lettuces at the bottom of the plate and top with a mix of red and gold roasted beets.

DRIZZLE with Champagne Yogurt Dressing.

GARNISH with a drizzle of extra virgin olive oil, pickled onion, dill sprigs, fresh chopped mint, picked flat-leaf Italian parsley and salt and pepper.
To make the Champagne Yogurt Dressing
WHISK all ingredients together until smooth.
Nutrition
Nutrition
Serving Size

1 salad
Amount/Serving
% Daily Value
Fat

34 grams
44%

Saturated Fat

4.5 grams
23%

Cholesterol

0 milligrams
0%

Sodium

640 milligrams
28%

Carbs

30 grams
11%

Fiber

6 grams
21%

Sugar

21 grams

Protein

5 grams

Calcium

90 milligrams
7%