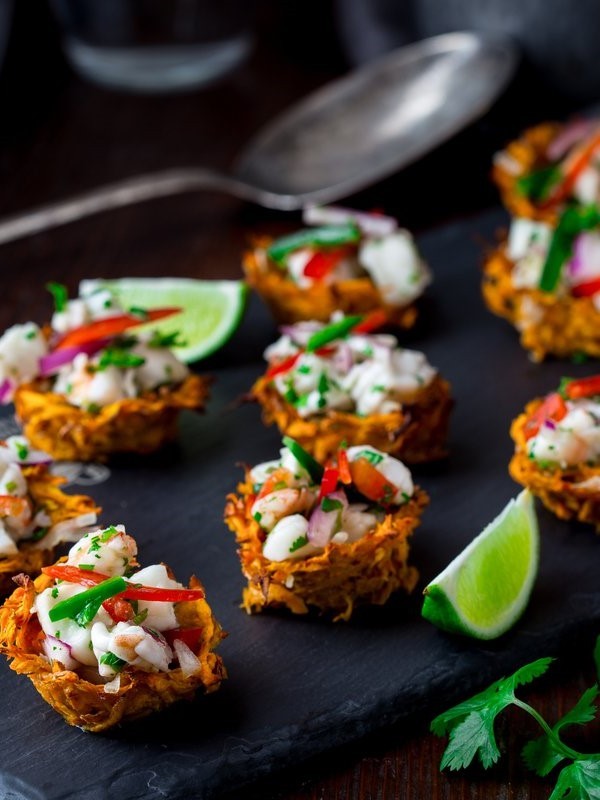 Shrimp & Monkfish Ceviche
Ingredients
For the Ceviche:

½ pound shrimp (any size), cut into ½ inch piece
½ pound monkfish, cut into ½ inch pieces
6 to 8 limes, juiced
2 or 3 garlic cloves, minced
1 medium red onion, sliced very thin and cut into thin strips
1 small red bell pepper, seeded, sliced very thin and cut into thin strips
1 jalapeno, Fresno or habanero pepper, sliced very thin
¼ cup chopped fresh cilantro
¼ cup chopped fresh parsley
½ teaspoon salt
½ teaspoon ground black pepper

For the Sweet Potato Nests:

1 large sweet potato, peeled and grated (about 3 cups)

1 egg, beaten

1 teaspoon salt

1 teaspoon ground black pepper

2 tablespoons Cabot Unsalted Butter

I cup Cabot New York Extra Sharp Shredded Cheddar Cheese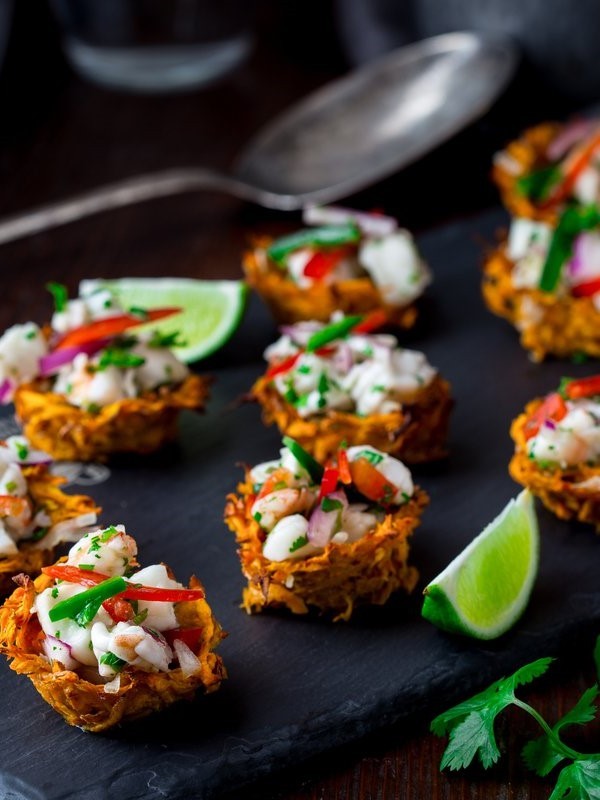 Directions
PREP TIME NOTE: Requires 5 – 6 hours to marinate
PLACE the monkfish and the shrimp in a large bowl and cover with the lime juice.  Cover the bowl with plastic wrap and refrigerate for 5 to 6 hours, stirring occasionally.
WHILE the ceviche is marinating, begin making the sweet potato nests.  Preheat oven to 375°F.
PLACE the grated sweet potato in a colander and let drain for several minutes.  Then, using your hands, press on the potatoes to help remove any remaining water.  When they are as dry as possible place them in a medium size bowl and add the beaten egg and the salt and pepper and mix well.

LIGHTLY grease the cups of two large mini-muffin pans with the butter. (Silicone or non-stick muffin pans work well for this to prevent sticking, or place a circle of parchment paper in the bottom of the muffin tin.) Place about a tablespoon of the grated sweet potato in each cup of the muffin tin. With your fingers press the potato on the bottom and up the sides, forming little cups. When all the cups have been filled, place the muffin pan in the oven and bake at 375° for 20 to 25 minutes or until the potatoes start to turn golden brown. When done, remove from the oven and let cool completely before carefully removing them from the pan. A narrow rubber spatula may help gently release the cups from the mini-muffin pan. As you remove them from the pan place them on large plate or platter and put a small amount of the grated cheddar in each sweet potato cup. Set aside until the ceviche is ready.

WHEN the seafood is done, it will be opaque. Using a slotted spoon, lift the seafood pieces out of the marinade, allowing the juices to drain back into the marinade. Transfer the seafood to a large bowl, add the rest of the ingredients and stir to blend. Add 2 tablespoons of the marinade to the mixture if needed to moisten.
PLACE a tablespoon or so of the ceviche in each of the Cheddar and Sweet Potato Nest and serve.
Nutrition
Nutrition
Serving Size

1/8 of recipe
Amount/Serving
% Daily Value
Fat

9 grams
14%

Saturated Fat

4.5 grams
23%

Cholesterol

90 milligrams
30%

Sodium

740 milligrams
31%

Carbs

10 grams
3%

Fiber

1 grams
4%

Protein

13 grams

Calcium

143 milligrams
15%