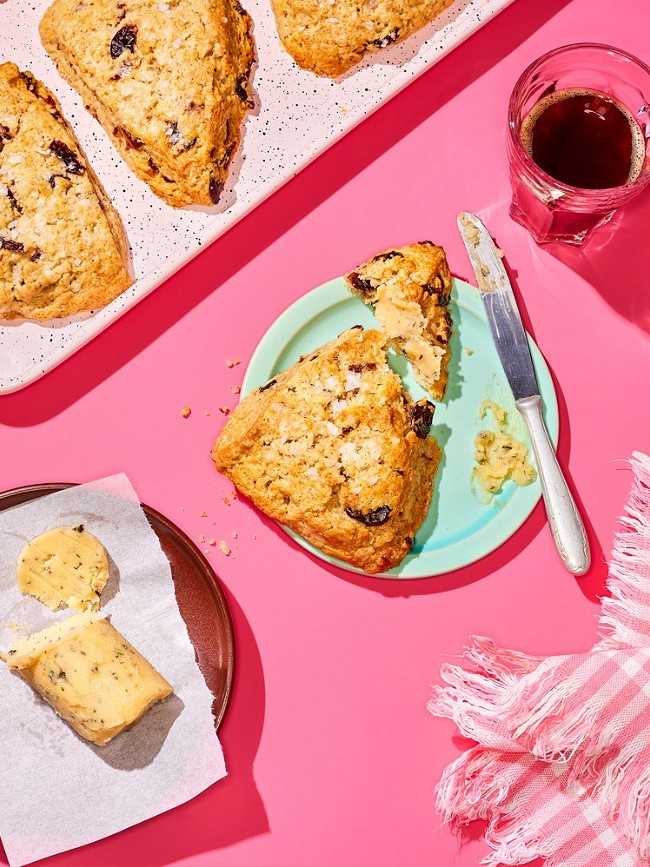 Sour Cherry Scones with Brown Sugar and Rosemary Compound Butter
Category
Breakfast and Brunch
Tart flavor shines through cozy Sour Cherry Scones made with Cabot Unsalted Butter. Served with a Brown Sugar and Rosemary Compound Butter crafted from even more cold, fresh-tasting Cabot Unsalted Butter, it's an irresistible combo that's ready to bust out of teatime and into every daypart.
Ingredients
For the scones

2 cups all-purpose flour

½ cup granulated sugar

2½ teaspoons baking powder

1 teaspoon ground cinnamon

½ teaspoon salt

½ cup Cabot Unsalted Butter, frozen

½ cup heavy cream, plus 2 tablespoons for brushing

1 large egg

1½ teaspoons vanilla extract

1 cup dried tart cherries, chopped

½ teaspoon Maldon salt (or other course salt for topping)

½ cup Brown Sugar and Rosemary Compound Butter (see below)

For the Brown Sugar and Rosemary Compound Butter

1 tablespoon fresh rosemary

¼ cup brown sugar

½ teaspoon salt

½ cup Cabot Unsalted Butter, cold, cubed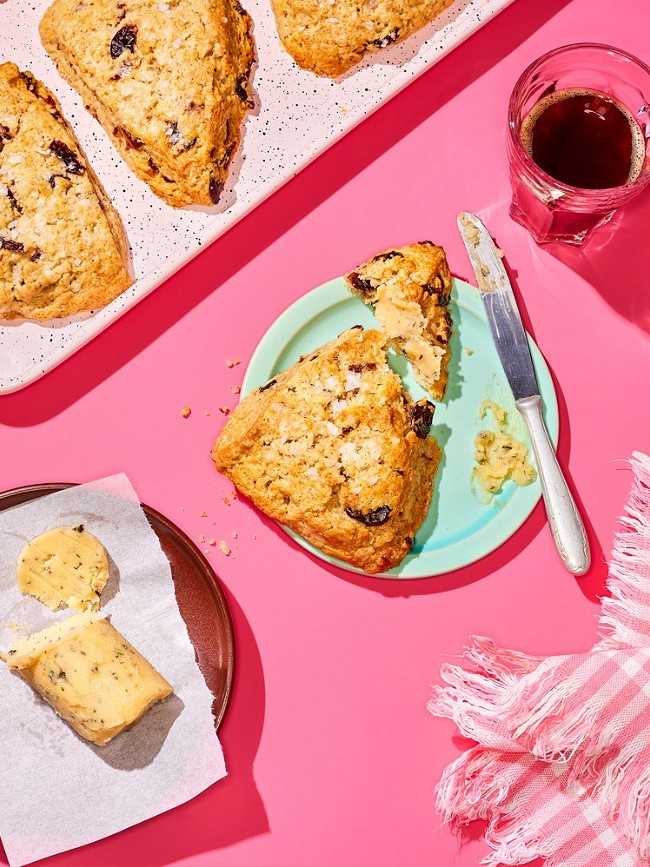 Directions
To make the scones
WHISK flour, sugar, baking powder, cinnamon and salt together in a large bowl. Grate the frozen butter using a box grater. Add it to the flour mixture and combine until the mixture comes together in pea-sized crumbs. Place in the refrigerator or freezer as you mix the wet ingredients together.

WHISK ½ cup heavy cream, the egg and vanilla extract together in a small bowl. Drizzle over the flour mixture, add the cherries, and then mix together until everything appears moistened.

POUR dough onto the counter and with floured hands, work dough into a ball as best you can. Dough will be sticky. If it's too sticky, add a little more flour. If it seems too dry, add 1-2 more tablespoons of heavy cream. Press into an 8-inch disc and, with a sharp knife or bench scraper, cut into 8 wedges.

BRUSH scones with remaining heavy cream and sprinkle with coarse salt.
REFRIGERATE for at least 15 minutes.

BAKE at 350° on a sheet pan with parchment paper or silicone baking mat for 22-25 minutes or until golden brown around the edges and lightly browned on top.

SERVE with brown sugar and rosemary compound butter (see below).
To make the Brown Sugar and Rosemary Compound Butter
PULSE the rosemary, brown sugar and salt in food processor until rosemary is finely chopped.

ADD butter and pulse until fully mixed.

FORM into log in parchment and chill until ready to use.
Nutrition
Nutrition
Serving Size

1 scone
Amount/Serving
% Daily Value
Fat

20 grams
26%

Saturated Fat

12 grams
60%

Cholesterol

70 milligrams
23%

Sodium

290 milligrams
13%

Carbs

62 grams
23%

Fiber

7 grams
25%

Sugar

26 grams

Protein

6 grams

Calcium

320 milligrams
25%