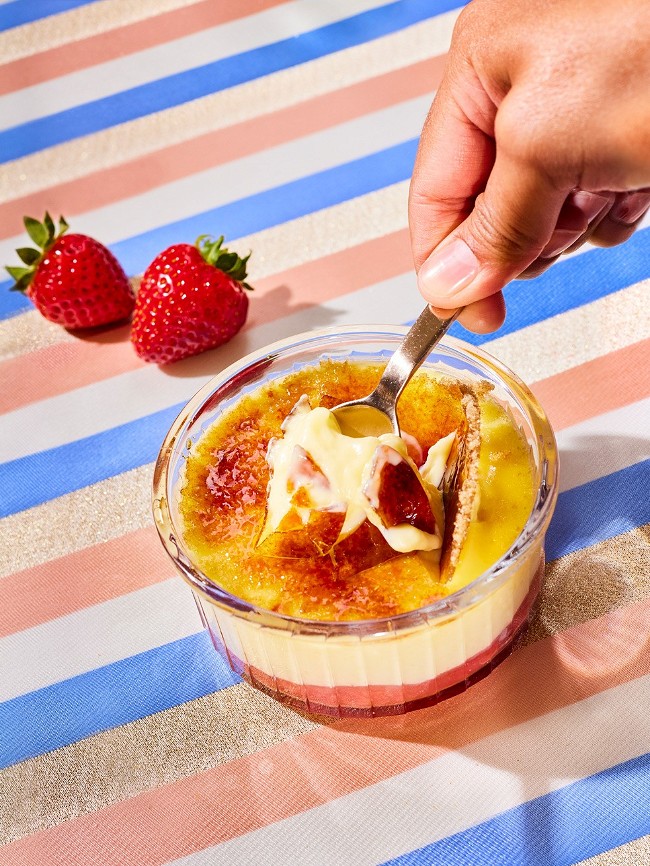 Strawberry Rhubarb Sour Cream Crème Brûlée
Layers of strawberry rhubarb, creamy custard made with Cabot Sour Cream and the perfect crackle of golden sugar create a sweet and tart summery take on a French classic. But when the flavor is this rich, it's sure to be a year-round menu hit.
Ingredients
For the Crème Brûlée

2 cups Strawberry Rhubarb filling (see below)

2 cups heavy cream

1 cup Cabot Sour Cream

3¾ tablespoons granulated sugar, divided

¼ teaspoon lemon zest

8 egg yolks

For the Strawberry Rhubarb Filling

3 cups rhubarb, chopped

3 cups strawberries, halved

1 cup granulated sugar

¼ cup cornstarch

½ teaspoon salt

2 tablespoons lemon juice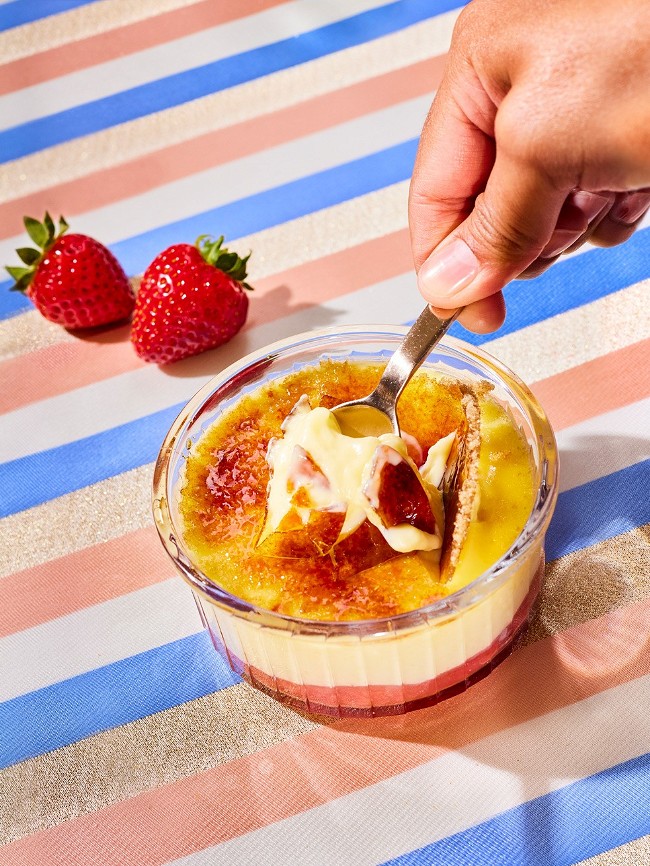 Directions
To make the Crème Brûlée
PREHEAT oven to 320°F.

COOK the heavy cream until simmering and remove from heat.

WHISK together ¾ cup sugar, lemon zest, sour cream and the egg yolks in a medium bowl until well blended and pale yellow.

TEMPER egg and cream mixture to make custard.

FILL 8 ramekins each with ¼ cup rhubarb filling and cool briefly to set, and then add a ½ cup of custard mixture.

BAKE ramekins in a water bath at 320°F just until the crème brûlée is set, but still trembling in the center. Chill until fully cooled.

TOP each crème brûlée with a thin layer (about 1 teaspoon) of sugar, clean the edges and torch until light golden brown.
To make the Strawberry Rhubarb filling
ADD the rhubarb, strawberries, cornstarch, salt and lemon juice to a heavy-bottomed saucepan.

COOK over medium heat, stirring until rhubarb is soft.
Nutrition
Nutrition
Serving Size

3/4 cup
Amount/Serving
% Daily Value
Fat

29 grams
45%

Saturated Fat

17 grams
85%

Cholesterol

165 milligrams
55%

Sodium

80 milligrams
3%

Carbs

36 grams
12%

Fiber

1 grams
4%

Sugar

33 grams

Protein

5 grams

Calcium

100 milligrams
8%