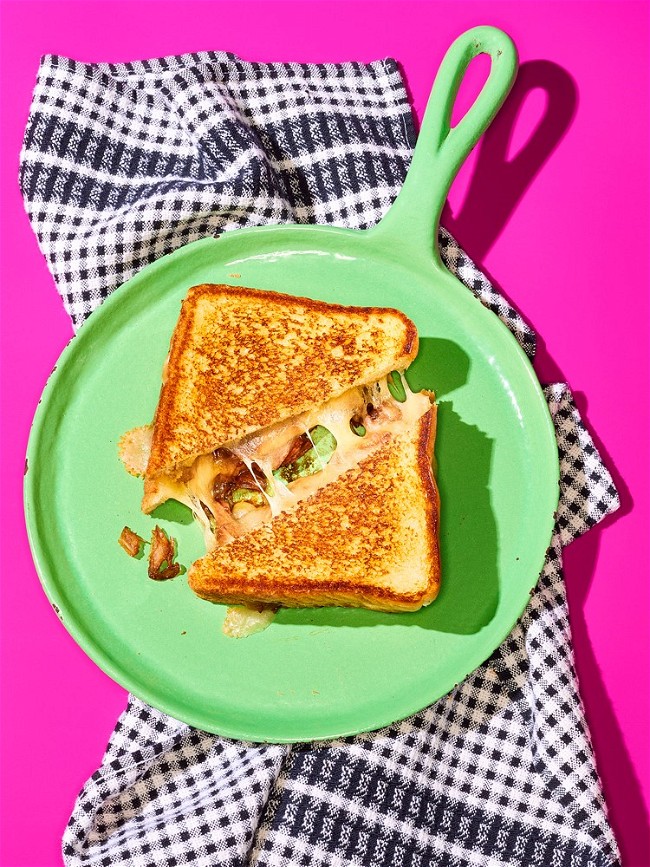 Sweet Soy Chicken Grilled Cheese with Cheddar on Garlic Toast
Menu our grilled cheddar cheese sandwich that's overflowing with the fragrant flavor of sweet soy chicken. Marinated in a blend of kecap manis, red finger chile and tamarind, the chicken adds a sweet and umami flavors that balance the sharp notes of Cabot Creamy White Cheddar Slices. Served on Texas Toast, it's an easy way to tap into the comfort food and global flavor trends with one sweet and savory sandwich.
Ingredients
½ cup chicken thigh, cut to 1-inch bites

3 tablespoons tamarind paste

¼ cup onion, medium dice

3 tablespoons garlic, minced

¼ cup red finger chile, large dice

½ teaspoon black pepper

⅓ cup kecap manis (sweet soy)

¼ cup vegetable oil

2 pieces garlic Texas toast

2 tablespoons Cabot Unsalted Butter

Cabot Vermont Sharp Cheddar Slices (enough for a good melt)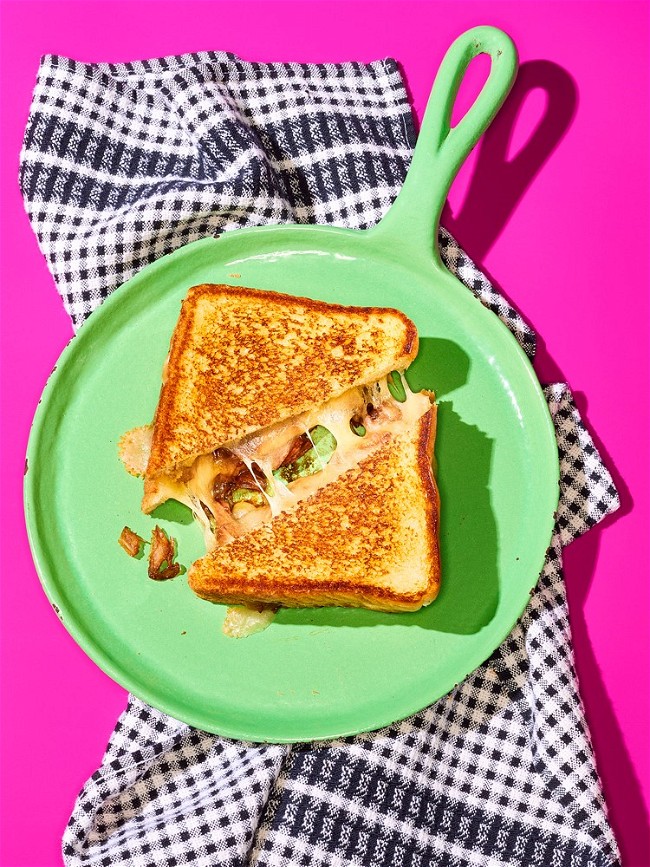 Directions
MAKE the marinade: mix tamarind paste, onion, garlic, red chile, black pepper, kecap manis and oil. Place chicken in the marinade and refrigerate overnight.

SET grill to high and fully cook chicken. Reserve for the sandwich build.

BUTTER two slices of bread. On the non-buttered side of the first piece, add sliced cheddar and grilled chicken pieces and then cover with another slice of buttered bread. The buttered side should be facing outward.

HEAT a skillet to medium-high heat. Grill each side of the sandwich for 2 to 3 minutes or until desired doneness is reached. Cut in half and enjoy hot!
Nutrition
Nutrition
Serving Size

1 sandwich (2 tbsp marinade)
Amount/Serving
% Daily Value
Fat

64 grams
98%

Saturated Fat

30 grams
150%

Cholesterol

215 milligrams
72%

Sodium

1130 milligrams
49%

Carbs

40 grams
11%

Fiber

4 grams
16%

Sugar

6 grams

Protein

38.9 grams

Calcium

409 milligrams
40%