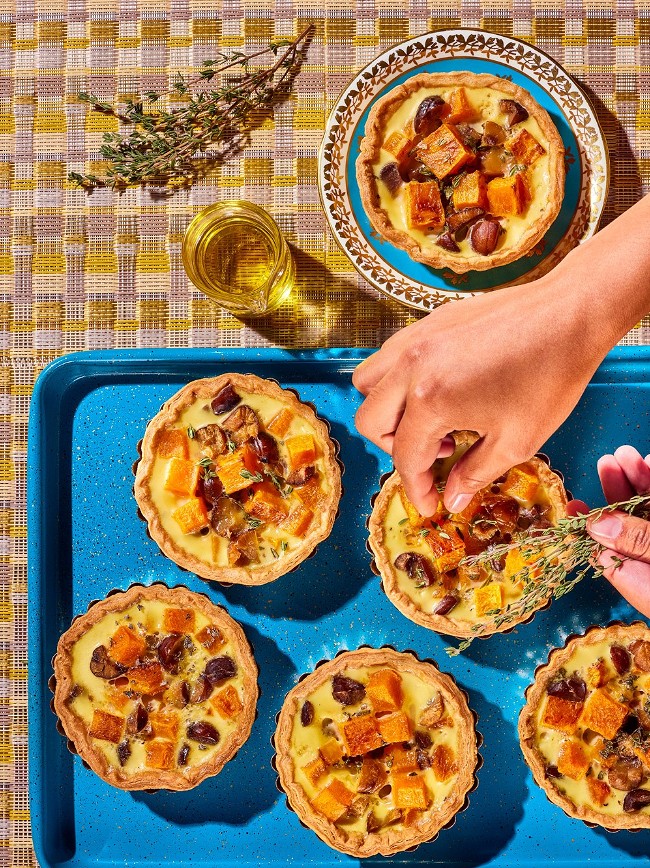 Truffled Squash and Chestnut Tartlets
The buttery sweetness and meaty texture of chestnuts pair perfectly with the soft and satisfying taste of squash. Together, they're tossed in a fresh herb blend and baked to perfection in a flaky homemade crust crafted with Cabot Unsalted Butter. These personal tarts are an excellent addition to any seasonal menu, and with flavor this multifaceted, they're sure to be a success any time of year.
Ingredients
For the tarts

24 ounces Buttery Tart Dough (see below)

1 tablespoon fresh sage, chopped

1 tablespoon fresh thyme, chopped

1 tablespoon fresh rosemary, chopped

2 tablespoons Cabot Unsalted Butter

1 teaspoon salt

6 eggs

10 ounces milk

3 cups butternut squash, cubed, roasted

¾ cup peeled chestnuts, fully cooked, chopped

1½ teaspoons truffle oil, for garnish

For the Buttery Tart Dough

1½ cups all-purpose flour, sifted

½ teaspoon salt

9 tablespoons Cabot Unsalted Butter, cold, cubed

¼ cup ice water, or more as needed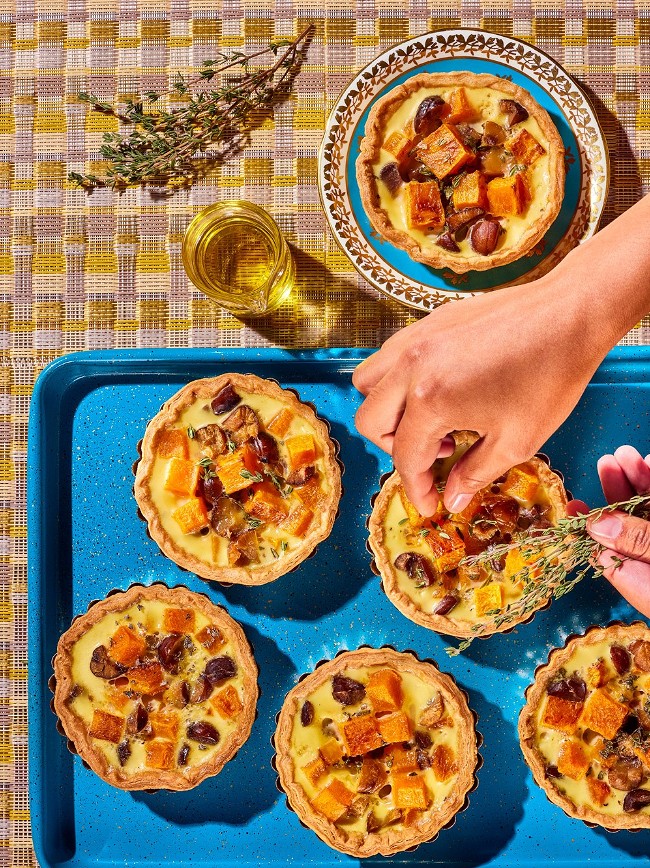 Directions
To make the tart filling
PREPARE 12 each 4-inch tart shells with the Buttery Tart Dough, dock and blind bake at 350°F or until slightly golden. Set aside.

COOK the herbs in butter with salt until slightly browned, remove from heat and toss in the squash and chestnuts to coat. Set aside.

MIX egg and milk to make a custard.

FILL each shell with ⅓ cup of squash mixture and 3 tablespoons of custard.

REDUCE heat to 320°F and bake until custard is set but not overcooked.

FINISH each with ⅛ teaspoon drizzle of truffle oil and garnish with sprigs of thyme.
To make the Buttery Tart Dough
ADD flour, salt and butter to the food processor and pulse until crumbly.

ADD one tablespoon of cold water at a time, pulsing until crumbles are soft enough to knead and come together.

KNEAD on a floured surface to form a disc.

WRAP the dough in plastic to chill and rest well before rolling, forming and baking.
Nutrition
Nutrition
Serving Size

1 tartlet
Amount/Serving
% Daily Value
Fat

26 grams
33%

Saturated Fat

14 grams
70%

Cholesterol

130 milligrams
43%

Sodium

380 milligrams
17%

Carbs

36 grams
13%

Fiber

3 grams
11%

Sugar

2 grams

Protein

8 grams

Calcium

100 milligrams
8%